The $1 million award comes at pivotal time for faith-based non-profit as they expand programming worldwide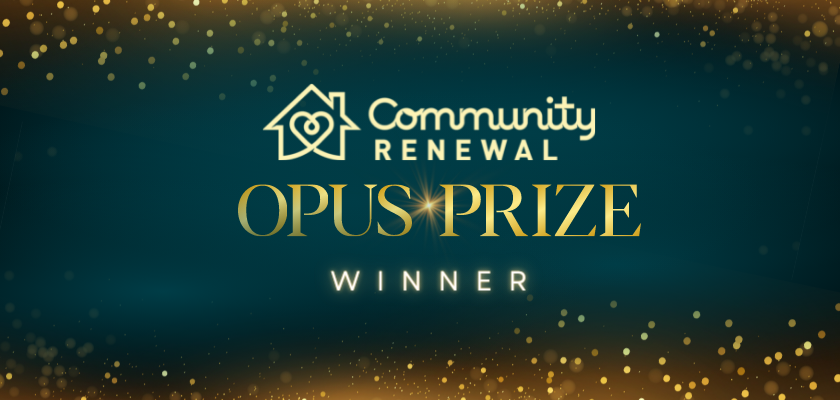 SHREVEPORT, Louisiana — For nearly three decades, Community Renewal International has been working in Louisiana to create stronger communities by fostering friendships across all lines of diversity.
In recognition of those ongoing efforts and recent work to turn the regional non-profit organization into a global movement, the organization was honored as the recipient of the Opus Prize.
The prize is awarded to non-profit organizations of faith. For Community Renewal International, that faith manifests in their mantra "Love works and Love wins."
As one of the most prestigious awards given to non-profit organizations focused on social innovation, Community Renewal International founder Mack McCarter hopes being honored with the Opus Prize jumpstarts already ongoing expansion efforts.
"This honor allows us to take the work more powerfully onto the national and international stage," McCarter said. "We must not wish for brotherhood and sisterhood. We have to work to create brothers and sisters in our own lives right now. Creating a movement that will affect the global population starts by connecting neighbor to neighbor, neighborhood by neighborhood."
With the award and the publication on the same day of the book, How to Remake The World Neighborhood by Neighborhood, Community Renewal International is poised to move forward," said Jimmy Graves, Community Renewal International director of development.
"We want Community Renewal International to move from a model that creates measurable impacts on the quality of life on the neighborhood level to a movement influencing and embedded in all neighborhoods and sectors of society," Graves said. "This award is an important step to that goal, and the book is a perfect roadmap for those efforts."
How to Remake The World Neighborhood by Neighborhood, written by McCarter with Tim Muldoon, is designed to share many of those ideas lived out daily in Shreveport and has received high praise from a diverse list of famous figures from all political stripes and backgrounds.
"Mack McCarter is a rare 'all in' inspiring, genuine individual, who has dedicated his life to helping others and communities in need," said Kix Brooks, of Brooks & Dunn fame and host of American Country Countdown. "He has helped 'streets of despair' become neighborhoods where children and their parents can grow with the hope that the world is not without promise and faith, and goodness… without people like Mack who persevere with this promise… I fear all may be lost."
"Our country is as divided today as it has been at any time since the Civil War and Reconstruction, but not just in politics, in our society as well," said Cook Political Report founder Charlie Cook. "Few have studied and thought more about bringing a sense of community back to our local neighborhoods than Mack McCarter. With Community Renewal International, Mack has developed a recipe for nourishing and nurturing our communities' souls. Our neighborhoods, whether we realize it or not, are craving, even starving, for something different, something to bring us together. This is a cookbook full of such recipes and thoughts."
The $1 million Opus Prize is selected each year through a complex and anonymous process resulting in three finalists.
This year's other finalists included Damien House, in honor of Founder Annie Credidio in Guayaquil, Ecuador and the Interfaith Mediation Centre, in honor of Imam Muhammad Nurayn Ashafa and Pastor James Movel Wuye in Kaduna, Nigeria.
The 2022 winner was announced on November 3 at the Catholic University of America convocation in Washington, D.C.
The Opus Prize is given not only to expand the humanitarian efforts of the recipient but to inspire others to pursue lives of service. The $1 million award and two $100,000 prizes make up one of the world's most significant faith-based awards for social entrepreneurship.
Opus Prize laureates combine the spirit of innovation with great faith to inspire long-term, local solutions to address poverty and injustice.
Opus Prize laureates also continually prove change can be possible and find solutions to community problems through empowerment and an unshakable faith in the power of the community.
"The 2022 Opus Prize finalists exemplify faith-filled leadership through service and indefatigable dedication to alleviating human suffering," said Kerry Alys Robinson, executive partner for global and national initiatives at Leadership Roundtable and the executive director of the Opus Prize Foundation. "We are edified, ennobled and inspired by their example, and the world is more loving, healthier and peaceful as a consequence of their work."
Community Renewal International believes in that mission and is positioning itself in ways that restore the relational fabric of our lives and create safe, connected, and caring communities, she said.
While the movement is based in Shreveport, Louisiana, it is being replicated at various stages in a growing number of locations throughout the US, including Shawnee, Oklahoma; Palestine and Austin, Texas; Birmingham, Alabama; the greater District of Columbia area; and in the African countries of Cameroon, Nigeria and Ethiopia.
"Ultimately, we hope towns, villages and cities across the globe can use the Community Renewal International template to reconnect and strengthen the connections between individuals, in turn connecting larger groups, regions and nations in support and friendship," Graves said. Founded in 1994, Community Renewal International restores the foundation for safe and caring communities by building intentionally caring relationships through three primary efforts, the Renewal Team, Haven House and the Friendship House. All three endeavors are used to turn neighborhoods into safe havens of friendship and support.
And it has worked, with major crime dropping an average of 55 percent in their Friendship House areas and 73 percent in their most challenged neighborhood.
While Community Renewal International efforts are designed to create positive change, Graves said it starts at the individual level, driven by the growing Renewal Team and its over 50,000 members, with more added daily.
"If you are a human being, then you are already a caring person," he said. "You've just been caring alone and thinking the world is dangerous because care is not celebrated. But when we come together, we realize we are the biggest 'gang' in town, and there are far more caring people in our communities than not. Thanks to the Opus Prize, Community Renewal International will connect those folks for the good of the neighborhood, their community and the world."
For more information, contact associate coordinator Mike Leonard at (318) 458-2210 or director of development Jimmy Graves at (318) 470-6000.
For more information about the Opus Prize, visit opusprize.org.
For more information about the book, visit howtoremaketheworld.com../….
To learn more about Community Renewal International, visit communityrenewal.us. They also maintain a presence on social media, including Facebook, Twitter and Instagram.