Blue Star Ranch owner and operator offers advice to new chicken owners on keeping the birds home safe and sound with a tool everyone already owns
INDUSTRY, Texas — Years ago, we were offered the nightly reminder to check up on children by knowing where they are at 10 p.m.
These days, cell phones can keep tabs on people day and night. And according to Blue Star Ranch Owner and Operator Mary Ann Fordyce, that same tool can help keep a flock of chickens safe and secure during the evening.
"It can be as simple as an alarm to remind the owners to close the coop door at night and keep predators from a chicken dinner," Fordyce said.
Since 2008 Mary Ann Fordyce has offered her chicks – and perhaps more importantly – her knowledge at Blue Star Ranch in Austin County, Texas.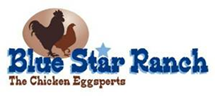 Fordyce offers her wealth of information to anyone who wants it as she actively expands her coaching and training services.
"They don't call me 'The Chicken Lady,' for nothing," Fordyce said. "I offer my expertise to anyone that wants it. Whether it's from the website, the blog or in-person, I want to make sure everyone can get the best from their chickens by having access to real information."
Among various tools on her website, she offers "Inside (S)coop." In it, she details insights into chicken farming and how to get the most from a flock.
On the website, visitors will find even more answers to many of the issues that new chicken owners face.
"Many new chicken owners see bad information on the internet," Fordyce said. "I try to 'egg'ucate them on how simple things like a Cock-a-Doodle alarm at dusk helps remind owners to close up the coop. The little things make the difference when successfully raising chickens, and I like to share those details with my clients and customers."
She said helping new owners is as rewarding as working directly with the customers and plans to grow the brand by offering personalized services and online training.
"It's like having a farmer in your back pocket," Fordyce said. "Being able to help people across the U.S.A. by offering easy to understand advice online in one convenient place is tremendously rewarding. It's a great place to learn about rearing chickens and even explore what being a chicken farmer is like from a real insider."
For more about Fordyce or the Blue Star Ranch, visit bluestarchicken.com.